Connecting Education and Environment
Mobilizing Sustainability in Education Policy, Practice, and Research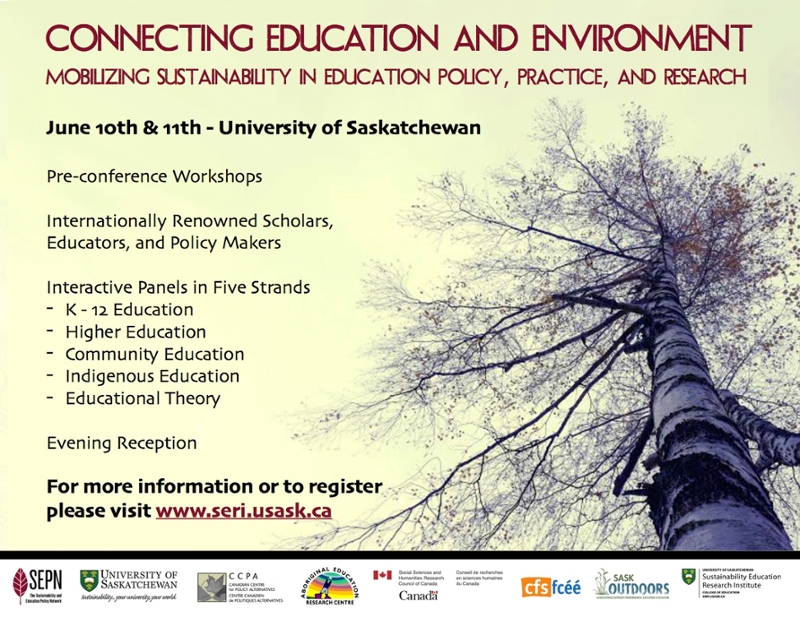 June 10-11, 2016
University of Saskatchewan
Saskatoon, Saskatchewan, Canada
The Sustainability Education Research Institute (SERI), Sustainability and Education Policy Network (SEPN), and partners was pleased to provide a unique opportunity to engage with internationally recognized researchers, educators, and policy makers working in the area of education and environment. 
The conference, "Connecting Education and Environment," was held on June 10-11th, 2016 in the College of Education at the University of Saskatchewan in Saskatoon, Canada. The conference focused on land, place, environment, and sustainability and connections to education policy, practice, and research. The event was attended by over 150 educators, administrators, policy makers, students, sustainability staff, organizations, communities, and researchers. 
June 10th included a range of pre-conference options for policy-makers, researchers, and educators in K-12, Higher Education, and Indigenous Education. On June 11th there were five strands of interactive sessions, as well as a keynote address by Dr. Manulani Meyer (University of Hawaii at Hilo). Dr. Meyer gave a stirring and provocative presentation that brought together research, policy, practice that challenged "business as usual" ways of knowing.  Download a copy of her keynote presentation (6.8 MB) and her 2013 journal article on "Holographic Epistemology" (500 KB) by clicking the links.  Local poet Janelle Pewapiskonias closed the conference with two moving poems, one of which she completed during the conference.  We closed the conference with a reception, hosted by SERI Director Marcia McKenzie, with catering by Chef Jenni and music from DJ Charly Hustle.
For more information on conference components, please see details below. 
With dwindling natural resources, a burgeoning world population, and various health concerns tied to pollution and climate change, pressure to address climate change and related environmental sustainability issue has never been greater.
The United Nations recently launched a bold set of 17 Sustainable Development Goals (SDGs) which commit world leaders to "ending extreme poverty, fighting inequality and injustice, and fixing climate change," with the fourth SDG focusing on education. UNESCO has also released a new Global Action Programme for Education for Sustainable Development (GAP) which sets out to reorient education towards a stronger set of contributions to sustainable development. The UN's 21st Conference of the Parties (COP21) climate change meetings, held in December 2015, included a focus on the role of education in addressing climate change and sustainability issues.
In response to the SDGs, GAP, and COP21 and mounting public support for mitigating the effects of climate change, nations will be increasingly expected to align their education sectors with policies that address sustainability challenges.
Evidence-based policy innovations require discussion and collaborations among policy makers, policy users, practitioners, and researchers. However, despite the importance of education policy in responding to the pressing sustainability issues of our times, there have been few opportunities nationally or internationally for researchers and policy makers to interact in furthering both education policy and research for a more sustainable world.
Connecting Education and Environment responds to this need by bringing together policy makers, researchers, educators, community organizations, students, and others to explore the connections between sustainability education practice, policy, and research and their role in furthering sustainability education policy.
Conference Sessions
Sustainability Education Policy Forum (Invitation-Only)

9:00 a.m. to 5:00 p.m. 
In this full-day event, researchers and policy makers discussed the relationships between policy decision-making and research, and implications for addressing gaps between the two in relation to sustainability uptake in education. The event was held at Wanuskewin Heritage Park and included a networking dinner in the evening. 
Sharing Post-Secondary Education for Sustainability Best Practices
9:00 a.m. to 1:00 p.m. (lunch included)
This half-day pre-conference began with an opportunity to reflect on the role and importance of education for sustainability in post-secondary education. This was followed by a conversation café that engaged participants in sharing and discussion innovative programs, classroom approaches and initiatives that engage post-secondary students and educators with sustainability, whether in or out of the classroom. The session was facilitated by staff members of the Office of Sustainability. 
Sustainability Tours of the University of Saskatchewan Campus
1:00 to 3:00 p.m.
The Office of Sustainability offered a choice of three sustainability tours of campus: (1) a walking tour, (2) a bike tour, and (3) a green building tour. The walking tour focused on sustainability initiatives and features on the central campus. The bike tour featured the central campus, as well as sustainability features and initiatives on the periphery of campus. The green buildings tour visited selected green buildings on campus. 
Celebrating Nearby Nature and Engaging Students in Community
Janet McVittie and Representatives from SaskOutdoors
9:00 - 12:00
This pre-conference addressed the value of nearby nature and methods for getting youth involved in sustainability projects. The morning was spent outdoors in nearby nature, a natural grassland, and the afternoon featured a panel of teachers presenting on what their students have done in the way of sustainability projects.
Connecting Education and Environment through Indigenous Land-based Education
Manulani Meyer & Alex Wilson
1:00 - 5:00 at Wanuskewin
This afternoon pre-conference at Wanuskewin Heritage Park engaged participants in sharing and discussing experiences, teaching practices and research on Indigenous land-based education in a range of settings (e.g., K-12, post-secondary education, adult education, community education).
The University of Saskatchewan is located within walking distance of Saskatoon's downtown core.  There are many accommodations of varying price available close to campus including:
Downtown Core 
On Campus Drive
On Campus
Message from an SEPN Partner
The Association for the Advancement of Sustainability in Higher Education (AASHE) is a partner on SERI's flagship research project, the Sustainability and Education Policy Network (SEPN). Unfortunately, AASHE was unable to have a representative at this year's conference but they have asked SERI to share the following with conference attendees.
The Association for the Advancement of Sustainability in Higher Education (AASHE) is a non-profit 501(c)(3) membership organization that empowers higher education faculty, administrators, staff and students to be effective change agents and drivers of sustainability innovation.
AASHE enables its nearly 1,000 members to translate information into action by offering essential resources and professional development to a diverse, engaged community of sustainability leaders. We work with and for higher education to ensure that our world's future leaders are motivated and equipped to solve sustainability challenges.  Learn more about membership.
Our flagship programs include: 
Contact us today to learn more about how your institutions or organization can become part of the AASHE community!