Graduate Student and Post-Doc Training
Graduate work and research assistantships with SERI are an exceptional opportunity to gain experience working with an active, vibrant group of graduate students, researchers, and community-based organizations at a national and international scale.
Graduate student researcher stipends are $15,000 (Master's) and $18,000 (PhD), plus benefits (or as negotiated in terms of contract)
Casual research assistantships
Links with collaborative research opportunities with community organizations
Publication opportunities
Bi-monthly collaboration and colloquia series
Current Post Doctoral Fellows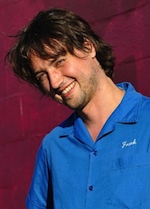 Andrew Bieler is a scholar of environmental communication and education. His research draws on cultural studies, social theory, mobile and arts-based methodologies to interrogate processes of public engagement and learning in art galleries, museums, and community-based settings. His Doctoral research examined the cultural and political thresholds of arts-sciences collaborations in the context of the development of public pedagogy about a sustainable response to climate change. Currently, he is a Post-Doctoral Fellow at the Sustainability and Education Policy Network at the College of Education, University of Saskatchewan.
Current Graduate Students
The Supervisor-Student Relationship
According to the University of Saskatchewan's College of Graduate Studies and Research, "The relationship between a supervisor and a student should be a productive working relationship that, in its culmination, transforms into a relationship between colleagues.  While the student is not employed by the supervisor, the relationship between a student and supervisor is unique and potentially complicated by the obligations of a student to achieve the research objectives of their program and the financial dependency of the student on the supervisor."
CGSR has compiled a list of common issues and questions that should be resolved early in the student-supervisor relationship.